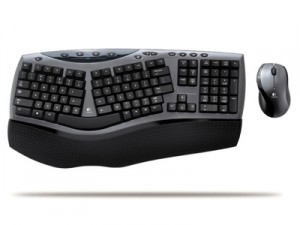 The Logitech Cordless Desktop Comfort Laser does exactly that. With a five year manufacturer warranty and adjustable features such as the three way adjustable tilt legs, the device is trustworthy and can be customised to meet the consumer's needs and preferences. The all black set has an exceptionally modern and sophisticated feel to it and it is certified to be used by the Microsoft Windows 2000, XP and Microsoft Windows Vista systems.
With safety and comfort in mind, Logitech has added a detachable wrist rest to the keyboard's features. This is to prevent strain and along with the split keyboard design, it allows professional typists to perform to the best of their abilities in a more safe and relaxed way.
The batteries can also last for a very long time and the sculpted laser mouse will let the user know when they are starting to run low. The laser mouse also has amazing control. The four way scrolling wheel and zoom allows the user to control what they are doing on the computer monitor with ease and the rubber grips gives additional comfort and support.
Although there are many positive features, there are unfortunately a couple of cons related to this device. The keyboard keys are slightly noisier than average, which after time would become irritating and there have been many reports of a very bad reception. To maintain a connection the keyboard has to stay in one place at all times, which happens to be the place that is right next to the receiver. This contradicts the point of it being wireless as the keyboard and mouse have to stay stationary to work efficiently.
It is to be noted that the Logitech Cordless Desktop Comfort Laser would not be suited to everyone. Gamers would find it extremely difficult to use the keyboard due to the keys being so far apart and some people may just prefer a more traditional keyboard. This device has been discontinued from many stores as newer models have been created in its place. Luckily it can still be found in online stores and is being sold much cheaper than its original retail price of $128.99. The cheapest that we have found is $44.00.
By purchasing the Logitech Cordless Desktop Comfort Laser there would be no longer a need for long wires to clutter the back of your desktop. This is definitely a product worth buying, especially at its recently available price!
Related articles
Posts from the same category: