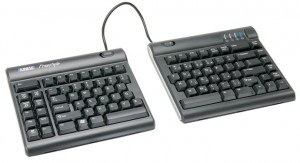 The Kinesis Freestyle Solo's revolutionary two modular design will relieve wrist strain during long hours of typing. Its ergonomic keyboard was designed with input from Ergonomists to suit the needs of a wide variety of user's needs.
In an Ergonomic keyboard review, research noted that while using some ergonomic keyboards, the typist had to hold their elbows at an angle away from their body to fit their hands on the keypad. This can cause a typist to twist their wrists while reaching for certain keys. And reaching can cause shoulder strain. As we type, our hands should not bend sideways from our wrist. Our hands and wrists should move in a straight line from our elbow. This constant twisting of our wrist can cause strain and injury. With the Kinesis Solo's compact design and separating keyboard, it is the best keyboard because the modules are adjustable to suit the typist's body type.
The two modules of the Kinesis have the same layout as a MicroSoft keyboard. The Kinesis keypad is compact, has a pivot tether, and 8 inch connecting cable, a low profile keypad to maintain a neutral wrist posture, and low force keys.
To make it easier to convert the keypads to a more comfortable configuration, Kinesis has four optional accessory packages. These interchangeable configurations also reduce the need for multiple ergonomic keyboards. The Incline is a good replacement for the MicroSoft Natural Keyboard. The keypad is at a 10 degree slope and the modules can splay 30 degrees apart. The Freestyle VIP has V-lifters and integrated palm supports. It has a keypad slope of 10 and 15 degrees. And, it can be used with or without a pivot tether. The Freestyle V3 has keypad slopes of 5, 10, and 15 degrees. You can use it with or without a pivot tether for greater separation. The Ascent provides the greatest comfort and customization. It has two multi-angle tenting modules that are adjustable in 10 degree increments from 10 to 90 degrees.
The Kinesis Freestyle is available for Windows and Mac operating systems. Windows users need and XP or newer operating system. Mac users need OS x 10.4 or newer. Both systems need a free USB port to connect the keyboard.
Related articles
Posts from the same category: