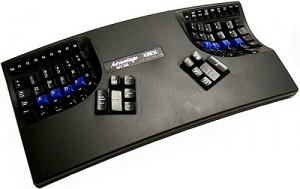 Kinesis is a brand of desktop computer keyboards designed to provide ergonomic support for the hands. As the name Kinesis Contour implies, the keyboard is not flat but raised slightly like a small hill, and sets of keys are separated by a plastic divider. Although the appearance is strange, and it takes more space on a desk than a standard keyboard, it is designed to be more comfortable. The hands are not pressed close together, but are placed in a more natural position.
The Kinesis Advantage line follows a same philosophy, but with the twist that the main keys are aligned in two depressions on the keyboard. This allows the fingers to sweep in their natural arc and arrive at sets of keys with less movement. This is reported to be the height of keyboarding comfort, as comfortable as typing all day can be. The Advantage, and in fact all Kinesis models, are able to be re-mapped, which allows users to apply the Dvorak keyboarding layout, which further enhances the ergonomic benefit.
The keys themselves are modified, with the trigger not being a spring underneath the key but rather a Cherry MX brown key switch. The benefit is that the typical clicking of keyboarding is replaced by a smoother and gentler motion. Also, the top row is not comprised of buttons at all, but rather soft impressions with a touch sensor underneath. These enhancements allow for comfortable keystrokes, and these comforts can become significant after a few hours of typing.
Although replacing a traditional keyboard with a Kinesis Contour or Advantage Keyboard can cost more than thirty dollars, it is a beneficial investment if the user must type for many hours a day. Excessive typing can contribute to arthritis of the hand, and those who already suffer from ailing joints can only make the situation worse. Sometimes a person suffers an injury to the hand, and needs to minimize finger movement as much as possible. Whether for the professional or as a handicap aid, a Kinesis keyboard can be a healthy option for a regular computer user. There is simply no need for a hand to suffer.
Related articles
Posts from the same category: