A first glance, you may find the Microsoft natural ergonomic keyboard 4000 weird with its looks since it comes with a unique design and layout in four varieties – from the traditional flat styled to the curved roller coaster design. This is the latest offering of Microsoft for their keyboards which highly promotes ergonomics. This has an affordable price that range from just around $65 to a hundred.
You may be wondering if this ergonomic model of Microsoft keywords is the same with their Natural series designed with split keys which provide a sufficient gap of keys for the wrists to be positioned in a more relaxed manner.
Nevertheless, the Microsoft natural ergonomic keyboard 4000 is the first in the redesigned series of the model. It also separates the left and right hand keys but it offers a smiley-face layout which was termed by Microsoft as the "gull wing".
This Microsoft 4000 keyboard will not lie flat on your desk since it has a detachable stand which you can snap in place for the entire keyboard to have a 7 degree reverse slope which encourages ideal alignment of the arm and wrist. If you are more into the traditional look, then you can just take off the stand and utilize the two folding feet at the rear end of the monitor.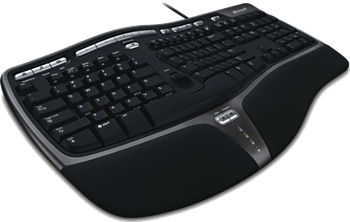 The Microsoft natural ergonomic keyboard 4000 is specifically designed to have the keys closer for your fingers to access while your hands are resting easily. For new users of the keyboard, it is normal that you may find yourself committing several typos but in time, you will find it easier and more convenient to use.
With its wavy layout, it sure has helped a lot of user's posture to be more improved since it encourages the person to sit up straight and never to slouch. It is compatible with all versions of Windows XP and is packed with a USB cable, a PS/2 adapter and even a cordless version is now made available.
Related articles
Posts from the same category: